1989: the debut of EGM and GamePro
originally written December 26, 2009 (last updated August 2, 2023)
Before 1989, I only had maybe one or two video game magazines other than Nintendo Power. There was one from early or mid 80's that I still have and the other was just a tip book in magazine form. But the two magazines that made an early and huge impact on me and how I run this site both debuted in 1989.
GamePro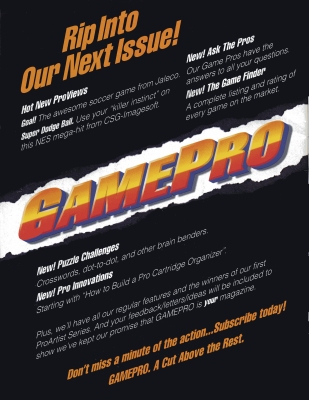 While the cover was a victim of early battle damage, I still have my worn-out copy of GamePro's premiere issue. The newly-opened Toys R' Us in the Eastwood Mall quickly established itself as the go-to spot for gaming goodness along with it's sweet selection of G.I.JOEs, Transformers and Ninja Turtles. Back then, the video game department was a giant, brain-melting Wall of Boxes and Tickets where you'd search for the flattened box of the game you wanted, took a ticket from the display to pay for at the counter and then took the receipt to the Plexiglas game cage near the exit where the TRU employee gave handed you your game. I don't remember which game I got that day but I faintly remember that Toys R' Us was pushing the premiere issue of GamePro somehow either by a free issue from the glass Game Cage or some display near the Wall o' Tickets. That issue got me hooked on the magazine for a lot of reasons. GamePro's premiere begins with an editorial by it's Editor-in-Chief, Don Ferrell, which turns out to be an accurate mission statement. The "It's new, flash, fun and full of information you want to see and read." tagline was right on the money, because the book was filled with a wide variety of interesting articles, reviews, previews (or ProViews), tips and an interviews held together by some eye-catching art design. GamePro's use of interesting layouts was right up there with Nintendo Power with making magazines that were fun to look at. My favorite example of the first issue is the
double-page review of Bubble Bobble
that is laid over the box art, red background and all, with screenshots trapped in the bubbles. GamePro went on to become famous for those layouts along with the face-based review system that ranked separate aspects of a game then gives it a total score. Their reviewers were originally known only by nicknames and weird identities long before most of us started doing the same thing on the internet. Sadly, GamePro was shut down in late 2011, but the magazine will live on in the hearts and minds of gamers for a long time to come.
Electronic Gaming Monthly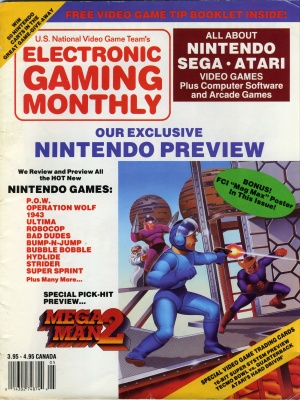 I had much better luck in keeping my original copy of EGM in shape since I still have the cover to scan in. I think I bought this in the electronics section in the late, lamented Hills Department store. If you had a Hills in your area, you may remember the "Hills is where the toys are" jingle and catchphrase but Hills also had a fine selection of video games. I'm about 95% sure that's where I saw Electronic Gaming Monthly issue 2 with big picture of Mega Man 2 on it's cover and knew I had to buy it. Sure, it didn't have much about that specific game underneath the cover, but rest of the magazine more than made up for that. Editor Steve Harris also wrote a mission statement/editorial which not only sets the tone for the magazine but foresees that 1989 would be the year that that much of 1988's forward thinking would pay off. He also mentions the many game delays and the supply shortage of Double Dragon for the NES. I wasn't used to seeing anything even slightly negative, not even a single sentence, in a gaming magazine but EGM refused to sugar coat things like that. Their reviews really got into the play mechanics and would point out any faults they found in the game. They weren't trying to be overly harsh in a fake attempt to get 'Critic Cred,' they told it as they saw it and how most people would tell their friends about their games if they had writing skills. The Quartermann gossip column simultaneously gave us a glimpse into the future along with false hopes that would be dashed in later issues by saying that they wouldn't be happening. Of course, the import news section was a favorite and was the first place that I saw the Batman game for the Mega Drive that was originally meant just for the Japanese market. Sunsoft changed their minds and brought it to the U.S. and even mentioned in it's advertising that it was "finally" coming to the States. We can probably thank EGM's preview for the letters Sunsoft may have gotten about that. The magazine went strong until it was laid to rest in January 2009. Luckily, original EGM founder Steve Harris is currently plotting it's rise from the grave with announcements being made via
EGMNOW.com
. Many EGM vets like Dan Hsu and SeanBaby have already signed on to what should be a glorious return to the magazine stand.
Until these two mags came along, it was really hard to find video game magazines in my area. There was something about GamePro and EGM that just seemed to click with people and more really good magazines started to come along. If it weren't for their strong sales, I don't know if we would've had a chance to see GamePlayers or Tips and Tricks on store shelves here. As good as it was then, Nintendo Power was only something that came in the mail and I didn't see it in stores until a few years after GamePro and EGM hit it big. There were great magazines before this but 1989 seems to be the breakout year for video game magazines.
These books had a big influence on me, too. ScrollBoss was built from my love of certain types of action games, but its foundation was the inseparable influence of these two magazines that told me about those games. When I started modifying my old reviews, they started to look more and more like a combination of the two books just because my brain told me that's what reviews should look like from the use of the game logo at the top to the summary and attribute-based ratings and review summary at the bottom. The infamous fake screenshot in EGM of Sonic the Hedgehog running down the snowy, exploding hill from Strider's second stage started my desire to mess around with pre-existing game graphics which eventually led to a section on this site that some people like. One of my main motivations in making custom sprites, whether they're edited from older sprites or from scratch, is to make you wonder what would really happen if certain characters were in games or formats that they were never in. They're like little EGM April Fool's Jokes and led to at least one professional website using that KoF Jimmy Lee edit in graphic for a story about Double Dragon Advance. In fact, the first thing that I ever had published was this envelope art in the January 1993 issue of EGM. So, yeah, I've been drawing Golden Axe fan art that long.
Return to top of the top of the page