Versus Mode/VS. Mode (game mode)
A play mode in non-versus games (platformers, beat 'em ups, etc.) where players fight other players, CPU-controlled opponents or multiple CPU-controlled opponents. The term is often used to set it apart from the main play mode and this distinction is more important when the main game isn't a fighting game. Some of these games only have a single-player game mode, so having a versus mode was a great addition back in the days when it was more common for humans to visit the homes of other humans to play video games. This mode could (in most cases) also serve as a place to test out the main game's moves on a test dummy in an era before tutorials and practice modes.

One of the most elaborate examples of this is Mode B "VS MODE" in the NES version of Double Dragon. While Technos was unable to recreate the 2-player simultaneous game play that made the arcade version a hit in Mode A, Mode B is a robust one-on-one fighting game with its own play mechanics. Though you can only have mirror matches (both sides playing as a version of the same character), it uses a completely different and much larger sprite set than Mode A and the move sets are suprisingly large for what is meant to be a supplimental mode.

A few games and series have Versus Modes great enough to eclipse the main single player or adventure game mode. If you think I'm mostly talking about Bomberman, you're correct! Vs. Modes didn't appear in the series until the second NES/Family Computer game in the series, Bomberman II.

The mode can appear under a different name, such as 'The Duel' in Golden Axe games for the Genesis. The actual term Versus Mode or Vs. Mode appears in Double Dragon (NES), Bomberman 2 (NES), Mega Man VII (SNES) and Brawl Brothers (SNES).
Game list:
Bomberman 2 (NES), Brawl Brothers (SNES), Captain America and the Avengers (Genesis), Captain America and the Avengers (NES), Double Dragon (NES), Golden Axe (Genesis), Golden Axe II (Genesis), Mega Man 7 (SNES), Rival Turf (SNES), Streets of Rage 2 (Genesis), Streets of Rage 3 (Genesis), Teenage Mutant Ninja Turtles - Turtles in Time (SNES), Trojan (NES), Ultimate Fighter (SNES)
Screenshots (click to see full-sized):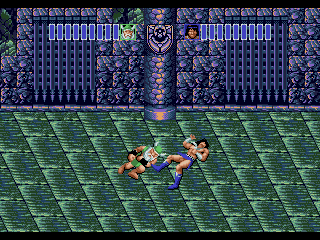 ---
Return to smaller definition in Venacula-X glossary
Return to top of the top of the page